By Jamie Freveletti

This is a photo of the wreath on the wall facing my glass front door. It's an artificial wreath that we've had for a few years now. My daughter made the red velvet bow and we managed to hang it without adding nails to the wall. It's not perfect, as you can see, but something about it always makes me smile. It's set on a timer (thank goodness for these devices!) and it manages to illuminate our front stoop through the glass door.
Like most families, we have our traditions, and this season brims with them, but lately we've been trying new things. Shaking it up a bit, as it were. And some of the new ideas have been great hits and some just a little "meh."
Hit: Thanksgiving in Boston last year with an Italian restaurant luncheon turkey, and later a Chinese restaurant for dinner, which I posted about here.
Also Hit: A new turkey recipe.
This year we celebrated Thanksgiving back at the house and that morning we googled a new turkey recipe, figuring it was time to switch up our usual one. The new one included Champagne, and since we didn't have any we looked for a substitute. The recipe suggested Ginger Ale. We didn't have any of that either, but we had fresh ginger and my son googled how to make ginger ale and ended up mashing it and turning it into ginger syrup, to which we added some sparkling water and voila! Homemade Ginger Ale. It was delicious and the turkey the best we'd ever made. Restaurant quality. HUGE hit on this break from tradition.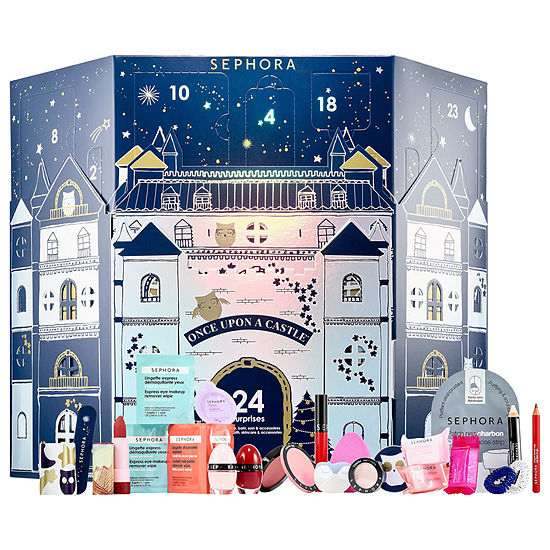 Bit of a miss (one) and also a huge hit: Ritzy chocolate advent calendar (miss) and Beauty advent calendars (huge hit).
I love advent calendars and this year I ordered several for my friends and family. I sent my daughter's roommate and my son's girlfriend beauty advent calendars from Sephora (pictured here) and my friends beauty calendars from QVC. These are wonders of marketing and packaging, with different products in each window. Both were hits, despite the fact that it takes a hammer and chisel to remove the items from the CD quality packaging. The items are pre-selected though, and next year I may try to devise my own with items of my choice, but overall these were very well received.
The ritzy chocolate calendar, not so much. While the chocolate was top notch, my daughter would have preferred the standard calendar I buy at the Christkindlmarket every year. Duly noted.
Also hit: Laughter. Sometimes in these turbulent times this last year laughter has been at a premium. I made a conscious decision to seek out laughter and to be grateful for the things I have. I started looking for books with a funny twist rather than a mournful one and I'm searching for that perfect funny novel to read over the holidays. If you have any suggestions I'd love to hear about them. I'd also love to hear about what traditions you have and whether you've had your own hits and misses over the years. Do tell!
My wish for you is happiness, health and a wonderful New Year.
Happy Holidays! Jamie